Words to live by, brought to you by your local garbage truck!
Save on Portable Toilet and Roll Off Dumpster Rentals
Cooler temperatures are on the way and Fall festivals, road races, Oktoberfest celebrations, carnivals and Halloween activities are almost here. These fun events may have candy corn and craft brews on the brain, but don't forget about all the waste. Big crowds mean big amounts of waste. Do you have a plan?
Whether you are running for a cause or just because you can, you're going to need a portable sanitation solution that can accommodate all or your runners, guests and cheering fans. Arwood Waste is here to help.
Order Today Before our Reservations Fill Up
All of these fall festivities mean we get pretty busy. We want to make sure we have room for your order, so be sure to pre-order your Porta Potties and Roll Off Dumpsters today before our reservations are all booked up. You can order online or over the phone by calling (888) 413-5105. When you pre-order, you qualify for extra savings. It's just our way of saying thank you for helping us plan ahead.
Call (888) 413-5105 Today for Your Pre-Order Savings
Arwood Waste and our partners are always here to help with all your Roll Off Dumpster rental and Portable Toilet rental needs.
The post It's Not Too Late To Pre-Order and Save for Your Fall Events! appeared first on 123 Dumpster Rental.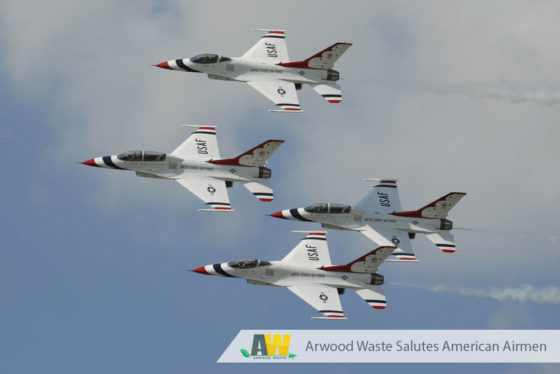 "As a former Airman First Class in the United States Air Force, like many veterans in America, my military experience played an important part in instilling in me a sense of character and discipline that has served me throughout my life." – Chuck Norris
Founded with the passing of the National Security Act of 1947 on September 18, 1947, the Air Force is the most recently established branch of the military and serves as the United State's aerial and space warfare service branch.
Aim High, Fly-Fight-Win
The United States Air Force conducts air and space operations and provides air support for land and naval forces. With  more than 5,000 military aircraft, 400 intercontinental ballistic missiles and 170 military satellites, the U.S. Air Force is largest and most technologically advanced air force in the world.
Integrity, Service, and Excellence
Integrity first. Service before self. Excellence in all we do. These are the core values of the U.S. Air Force, exemplified by over 300,000 active duty, 69,000 Air Force Reserves and 105,000 Air National Guard personnel.
For their service to our country and commitment to leadership in science and innovation, we off our gratitude and appreciation. If you have served in the U.S. Air Force or are currently serving, we thank you for your service and sacrifice. Thank you for making our country safer and stronger in the air, in space and in cyberspace.
We're Honored to Serve Those Who Serve
Call us at (888) 413-5105 if we can ever serve you. Arwood Waste provides affordable Roll Off Dumpster Rentals, Portable Toilet Rentals, Commercial Dumpster Rentals, Portable Storage Rentals, Junk Removal Services and  Temporary Fencing and Barricade Rentals.
When you're ready to start your next project, plan an event or open your Veteran-run business, count on us to serve you. It's the least we can do to say "Thank you" for your years of service to our great nation.
"I am an American Airman. Guardian of Freedom and Justice, My Nation's Sword and Shield, Its Sentry and Avenger. I defend my Country with my Life." – The Airman's Creed
The post We Salute the U.S. Air Force appeared first on 123 Dumpster Rental.